Our Story
Growing up, my dad, Ed Otis, a World War II Army veteran, had a great barbecue sauce recipe he got from my grandmother, I believe in the late 1920's, that he would never share. Whenever I asked for the recipe so I could make the sauce, he always told me I wasn't old enough to handle the recipe and when I was 21 I could have it. He then would make the sauce for me. For years, it was a running joke between us, but he would never give the recipe to me. At 18, I joined the U.S. Air Force and when I had turned 21, in my birthday card, written on a 3 x 5 index card was the base recipe of what is now Battle Tested® Craft Barbecue Sauce. (I still have that hand-written 3 x 5 recipe card)!
Since the day I received the recipe, I've been re-crafting it and giving the sauce out as gifts to friends and family who, for over 40 years, have encouraged me to bring it to market.
Well… we finally did, and the response has been overwhelming. Click on the link above to see our story.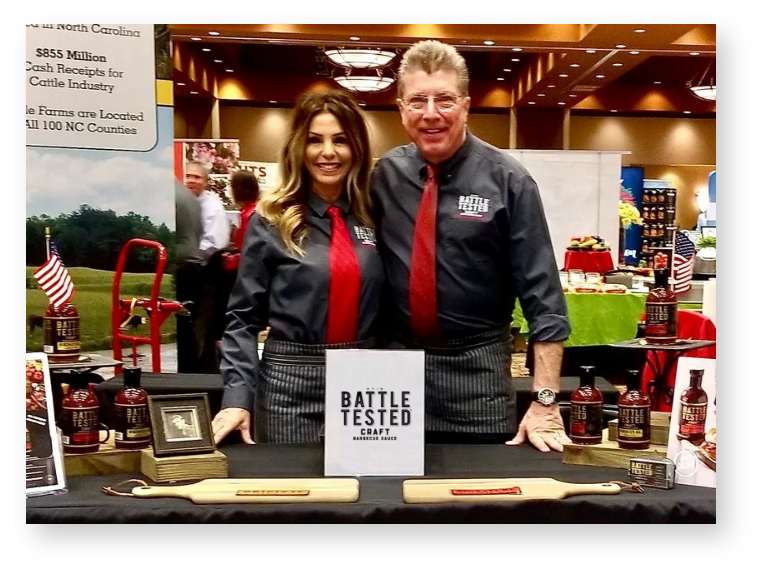 VETERAN OWNED GIVING BACK TO AMERICA'S VETERANS
The Otis family history of military service runs deep.
My 6th Generation grandfather served in the American Revolution, his first cousin was James Otis, who gave the speech on "Taxation without representation equals tyranny".
My dad served in combat during WWII in Germany and France. Me, 22 years in the U.S. Air Force and in the Middle East during Operation Desert Storm… and today my son serves in the U.S. Air Force. Our family has proudly worn the uniform of the U.S. military throughout this nation's history.
That's why with each bottle of Battle Tested® Barbecue Sauce sold, we'll donate 5% of our profits to a veteran not-for-profit organization to help battle veteran suicide and other charities.
It's the mission behind our sauce and one we're proud to support.
Mike and Deardria Otis
Shop Now
Battling Veteran Suicide
With every bottle sold, we'll donate 5% of our profit to a veteran run, 501(c)3 charitable organization focused on healing veterans battling PTSD and Veteran Suicide.